Southern Sober Biker
A web site for sober bikers in the Atlanta area.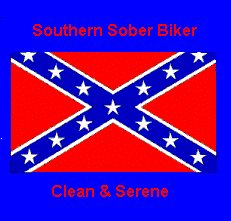 Clean and Sober Bikers


Ring Owner: SportsterJohn Site: Clean and Sober Bikers


This is something worth checking out. I signed up today and plan on participating in this. Patriot Guard Riders.
Next Big Event: NCOM
I need to start by posting my disclaimer! This site was designed for both people in 12 step recovery as well as the general biker community in the Atlanta area. Common sense tells us that some 12 steppers have no interest in some of the things that bikers will be interested in and most bikers will not have an interest in a lot of the 12 step stuff. Since I am in a 12 step program and also a biker, I built this site with both groups in mind. Although I am in a 12 step group and a motorcycle club, I want it noted that this website is mine and any opinion expressed on this site is my own and does not neccessarly reflect the veiws of any organization I am a member of. All the links on this page were put there because they serve eithor the recovering or the biker community. I don't neccessarly endorse or support any business or organization that is listed on this website. Now with that out of the way, lets return to our regularly scheduled programming.
1st off, I would like to apologize for not keeping this site updated. I have been managing other sites which have more activity on them so I have been putting effort into them and letting this one go. I noticed that this site is still getting a fair amount of hits so I decided to start maintaining it a bit better than before. I will start by keeping the events page current. I did update the clean and sober clubs page. I deleted dead links and added some more clubs. I currently have contact info for 81 C/S clubs. Also I added a blog so you can see what goes on in the brain of a sober biker. Also I changed the stories page to a stories and event reviews page. Keep in mind it is the middle of winter here so you probably won't see a hell of alot new stuff in it until spring. I also am linking to my page on webshots which is a photo album site. Some of the albums will be bike related, others will not be. I do occasionally do non bike related things! Finally, I put a guest map on the main page, let me see where you all are from! If you have any question about anything on this page or would like to know more about recovery, drop me an e-mail


Updates: 4/10/06: Well spring has arrived in Atlanta. I am totally ready for the warm weather Luckily we get to ride year round around here but it is much more fun to ride when it is 70 or 80 out then when it is 40 outside! So far I went on a few runs this spring. I hit a swap meet in Gaineville Ga. and a poker run / party put on by the American Legion riders. I have a poker run scheduled for this weekend and my club is having a campout over Memorial Day weekend so I will be pretty busy this spring. Not too much has been going on with me personally, just going to work and riding. I did make an attempt to bring a biker magazine which is published in Fla. up to Ga. but it did not work out. I did spend alot of time with this project and am a bit dissapointed but in hindsight; I probably already have too much on my plate as is.