Southern Sober Biker
A web site for sober bikers in the Atlanta area.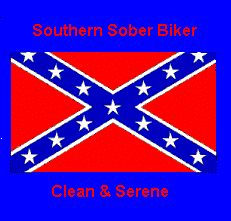 Clean and Sober Bikers


Ring Owner: SportsterJohn Site: Clean and Sober Bikers


Next Big Event: Lakewood Swapmeet
I need to start by posting my disclaimer! This site was designed for both people in 12 step recovery as well as the general biker community in the Atlanta area. Common sense tells us that some 12 steppers have no interest in some of the things that bikers will be interested in and most bikers will not have an interest in a lot of the 12 step stuff. Since I am in a 12 step program and also a biker, I built this site with both groups in mind. Although I am in a 12 step group and a motorcycle club, I want it noted that this website is mine and any opinion expressed on this site is my own and does not neccessarly reflect the veiws of any organization I am a member of. All the links on this page were put there because they serve eithor the recovering or the biker community. I don't neccessarly endorse or support any business or organization that is listed on this website. Now with that out of the way, lets return to our regularly scheduled programming.
1st off, I would like to apologize for not keeping this site updated. I have been managing other sites which have more activity on them so I have been putting effort into them and letting this one go. I noticed that this site is still getting a fair amount of hits so I decided to start maintaining it a bit better than before. I will start by keeping the events page current. I did update the clean and sober clubs page. I deleted dead links and added some more clubs. I currently have contact info for 81 C/S clubs. Also I added a blog so you can see what goes on in the brain of a sober biker. Also I changed the stories page to a stories and event reviews page. Keep in mind it is the middle of winter here so you probably won't see a hell of alot new stuff in it until spring. I also am linking to my page on webshots which is a photo album site. Some of the albums will be bike related, others will not be. I do occasionally do non bike related things! Finally, I put a guest map on the main page, let me see where you all are from! If you have any question about anything on this page or would like to know more about recovery, drop me an e-mail


Updates: 1/3/06: I killed the pop ups!! I finally got sick of the annoying pop up ads that you get when viewing this site. That is the downfall of free webhosting. I upgraded my tripod account so now the pop ups should be gone. And now onto other business. The Wednseday night in the wind group is dead again, so if you see it in the events list, ignore it. You know it is pretty sad when a city the size of Atlanta cannot even keep a biker AA meeting going on! Or perhaps the problem is that the area is too big and every small suburb has it's own thing going on. In the area and with the number of bikers in this area, you would think that we would have alot more bikes sitting in the AA/NA clubhouse parking lots.
Now to update you all on me, if anyone cares. I celebrated my 18th AA birthday this summer. I stay sober by staying active in the program. Most of the meetings I attend are filled with newer people and treatment center people so I always get a good reminder of what it is like out there! I traded in my road king and bought my old wideglide back. Sometimes new and shiny is not always better! My wife and I went to bike week for a day or 2 then headed down to the keys to go diving. I need to give a shoutout to my brother Cherokee for letting us crash at his house both on the way down and the way back. Esp when 11 of us pulled in at 2:00am lol. I am the only person who can go to Key West in March and have it be 50 degrees out. No fun sitting in a hottub under the palm tree when your nuts are turning blue from the cold! Only got in 1 day of diving out of 4. We also took a 4 day trip down the blue ridge parkway in Oct. It is our anniversary and we do the same ride every year. I love fall in the south east; 70 out one day then snow 2 days later just 1 state away! We hit a few of the bike ralleys this year and it is my mission to hit many more this year and get more active in the biker community. There are pretty big rallys going on almost every weekend within a few hundred miles of the house so I should be able to stay busy.